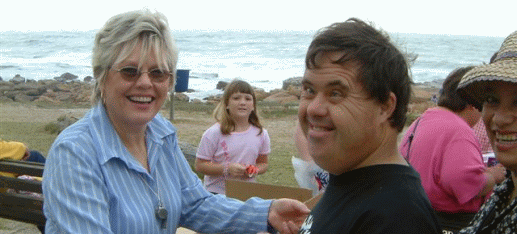 Challengers
The Challengers Ministry serves people who are intellectually challenged. It began in 1995 with an initial gathering of 12 Challengers and just as many helpers! Today this number has grown immensely and there is a register of over 100 Challengers, with 80 or 90 in attendance at each gathering. The ministry meets in the DG Mills Hall at St James Church on the second Saturday of every month, except January. There are various highlights throughout the year – in March and October there is a lunch outing, in July there is a Dinner Dance, and in December it is of course time for the Christmas Party.
The programme of activities for a usual get-together follows a regular pattern. The afternoon begins with a craft activity, which is followed by a time of various games, after which refreshments are served for all. All this takes about 2 hours, and the final 40 minutes of the afternoon is spent singing choruses, celebrating birthdays and having a story-time.
The ministry has been exceptionally blessed by generous financial giving, month by month, from a loyal and loving sponsor. The funding received from this donor gives the Challengers' committee a comfortable freedom when planning events. The committee comprises a leader, an assistant leader, a treasurer, a craft leader, catering ladies and a music leader. The sheer numbers of folk attending Challengers, along with the special needs that these intellectually challenged people have, demands good planning and a high ratio of helpers to also attend.
The time spent at every Challengers gathering is one of much noise, love and laughter and it is a very social time for these disabled folk who are often marginalized by society. As leaders in the ministry, our goal is to extend the love of Christ and to teach the gospel of the Bible to the Challengers at a level that they can understand and take into their hearts. They show a touching love for God and their simple faith is a joy to witness!